What's been happening at Brilliant Publications?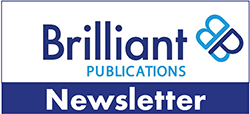 I apologise for not sending out a single newsletter last half term – we were just SO busy! I'll try to do better this half term.
So, what's been happening?
We've received the first four books in the Brilliant Activities for Reading Comprehension series (3rd edition)!
We're still waiting to get the Year 5 and 6 books from the printers, but are so excited about this 3rd edition of Brilliant Activities for Reading Comprehension, we had to share a photo of the first four books in the series with you.
You might be wondering – why produce a 3rd edition? Well, the simple answer is that customers kept telling us that they love the stories, but would really like to have a greater variety of question types and more non-fiction texts. So that's what we did! We knew the new books were chunkier, but it wasn't till we put the 3rd editions beside the 2nd editions that we realised quite how much more was in them.
The photo below shows just the first four 3rd edition books, compared with all six of the 2nd edition books.
You can see sample pages on our website.
---
Making a Mark! Discovering the Power of Neurodiversity on a Learning Safari, written by Katrin McElderry and Mark Stoddart
We are having great fun working on the design of Making a Mark, as it is part story book and part resource book for teachers.
Making a Mark! Discovering the Power of Neurodiversity on a Learning Safari is an educational resource in a story format. It highlights neurodiverse learning profiles – particularly dyslexia, dyscalculia, dysgraphia, and dyspraxia – while weaving in educational themes like grit and the growth mindset through its characters and their experiences.
The book uses world-famous sculptor Mark Stoddart's life and art as inspiration and through powerful analogies shows that learning can be adventurous and safari-like. Learning is process-oriented and messy, just as the art of bronze-making is. At the heart of learning is the brain, which – like a garden – can grow and flourish under the right conditions. These analogies serve as powerful messages and take-aways for readers to reflect upon.
The first section of Making a Mark! Discovering the Power of Neurodiversity on a Learning Safari is written in story format. It tells the educational journey of Mark and his neurodiverse friends, from being misunderstood at school and feeling that they were failures, through to finding teachers who understood that some people learn differently and helped them to realise that with the right methods everyone can learn.
The second section provides information on how the brain works and neurodiversity and enables readers to reflect upon their own learning profiles: their strengths and challenges alike. The discussion questions at the end of the book, invite students and educators to embark on their own conversations and learning safaris together, just as the students in the story do with their teachers.

It is going to be published in September 2023, but can be pre-ordered from our website now. You can find out more about Mark's amazing sculptures by clicking here.
---
We've commissioned Gurdeep Singh to write '101 Ways to Win in Teaching in Secondary Schools'
We don't often get to see authors in person these days, so it was fantastic that Gurdeep popped into the office to sign the contract and talk with us about marketing. Even better, he brought with him the completed manuscript! '101 Ways to Win in Teaching in Secondary Schools' will be published early 2024. (We promise to coordinate our colours better next time!)
If you are on Twitter, and would like a dose of positivity every morning, I strongly recommend that you follow Gurdeep: @TheTeacherWins.

With best wishes for next week!
Priscilla
Publisher
priscilla@brilliantpublications.co.uk
01525 222292