What's been happening at Brilliant Publications?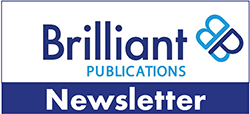 If you could put any of our books on your Christmas list, which would you choose?
OK, I realise that our books are unlikely to appear very near the top of anyone's Christmas list. (We can always wish!) But if there is one book of ours that you'd really like to own and haven't yet got round to buying, let us know which one it is and why you'd really like it.

We will give everyone who responds to this question a 20% discount code and will give one lucky respondent a free copy of their chosen book. Please share this offer with your friends and colleagues. The winner will be announced on Thursday, 15th December.
Royal mail strikes
As you will know, we use Royal Mail to send out smaller orders. Unfortunately, their planned strike days in December mean that it might take slightly longer for orders to reach you. If you need an order in a hurry, please add a note in the Order notes (optional) box on the Checkout page when you place your order and we will try to help.

Don't forget – our ebooks are available from our website 24/7.
Do you know what a 'contronym' is? (If you do – well done!)
I learned what a contronym is today and had to share it with you. Contronyms are words that have two contradictory meanings. For example:

Bolt – to secure OR to flee

Left – remained OR departed

Weather – to wear away OR to withstand

Aren't they fun? Can you or your pupils think of any others? They are quite rare.
5 reasons to follow us on Facebook!
If you aren't already following us on Facebook, here are 5 great reasons to do so:
1. Because you love us
Many of you have been a customer for many years and are part of the Brilliant family. You personally know one or more of us and are interested in what we are doing. When you follow us on Facebook, you'll see what we are up to and enjoy our journey with us!
2. Because we are part of the same community
We love the education community! I am an ex-primary school teacher and all our authors are or were teachers. So, naturally, we like to talk from time to time about things that are happening that effect schools and teachers.
Following us on Facebook is an easy way to stay up to date with what's happening in education.
3. Because you want to get to know us or our resources
Are you looking for new resources? Do you wonder whether our books will meet your needs? Following us socially is a great way to check us out and learn more about what we do.
We frequently share information about our books, tell you what others have said about them and offer free activities so that you can 'try before you buy'.

4. Because you want to interact with us
As a business, we feel it's very important to listen and respond to everyone. Following us on Facebook enables you to interact with us easily.
Do you wish to leave a review? Do you have a question you'd like to ask about one of our resources? Could we improve our service? Let us know and we'll do the best we can to respond speedily to your query. Whether it is to compliment us or to complain, we value your feedback.
5. Because you are interested in getting great value
A final advantage to following us on Facebook is that you will be first to receive information about valuable money-saving offers.
Please take the time to follow us on Facebook today. We have two pages: Brilliant French Resources for Teachers and Brilliant Publications. We are sure you'll be glad you did!
---
We love to hear from our customers. If you have any comments or queries about any of our products, please get in touch.
If you would like to receive more information from us, please tell us what interests you by clicking this link so that we can tailor the emails you receive – http://eepurl.com/gKMnqf.
With best wishes for next week!

Priscilla
Publisher
priscilla@brilliantpublications.co.uk
01525 222292