What's new at Brilliant Publications?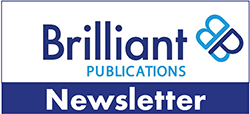 Welcome to the first Brilliant Publications newsletter of 2022!
 
We hope you had a good break
We love to receive orders, but it always worries me when we receive too many orders over the Christmas break, as I know how important it is for teachers to have some rest and relaxation. Nevertheless it is always reassuring when orders start to pick up again at the beginning of January.
I was very flattered to read on Twitter that one teacher was considering adding Kate Heap's Developing Reading Comprehension Skills series to her Christmas list – I hope her wish came true!

Here is what is happening in the office this week.

French is Fun for Key Stage 1
This week we are working on the final touches for French is Fun for Key Stage 1, ensuring consistency between the lessons plans, PowerPoints and flashcards. We are on schedule to publish at the end of the month. Foreign languages aren't compulsory for 5-7 year olds in England, but we believe that it is never too early to start teaching a foreign language. It has been really enjoyable working on this project which we hope will encourage non-specialist Key Stage 1 teachers to have a go at teaching French.

Cracking English Grammar in Key Stage 2
This title originally was just Cracking English Grammar, but as David Horner has now written a companion volume for Key Stage 1, we decided it would be a good idea to rename the Key Stage 2 title. We hope to be able to publish it soon, but are still trying to get permission to quote two extracts from children's books. It appears that lots of big publishing companies have a huge backlog of permissions to clear, which is frustrating for us, as we'd love to publish our book!
We love to hear from our customers. If you have any comments or queries about any of our products, please get in touch.

With best wishes for 2022!

Priscilla
Publisher