What's new at Brilliant Publications? (3 March 2022)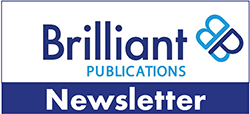 It's World Book Day today!
If you are celebrating World Book Day, I hope you and your class are enjoying the day!
When I was training to be a teacher (many years ago!), someone gave me a badge saying '10 ways to become a better reader: 1. read, 2. read, 3. read, 4. read, 5. read, 6. read, 7. read, 8. read, 9. read, 10. read!'
It is now more important than ever – when there are so many other distractions – to ensure that children (and adults!) have time to read for pleasure.
We've sent another book to the printers!
Although most of our publications are resource books for teachers, rather than books for children, we love reading children's books. That's why I'm delighted to report that we've sent Developing Reading Comprehension Skills Years 5-6: Contemporary Children's Literature, written by Kate Heap, to the printers.
This book contains extracts from some wonderful contemporary novels:
The Invasion of Crooked Oak by Dan Smith
Darwin's Dragons by Lindsay Galvin
Lori and Max and the Book Thieves by Catherine O'Flynn
Letters from the Lighthouse by Emma Carroll
Dragon Mountain by Katie and Kevin Tsang
October, October by Katya Balen
The Mask of Aribella by Anna Hoghton
The Haunting of Aveline Jones by Phil Hickes
A Kind of Spark by Elle McNicoll
The Hungry Ghost by H.S. Norup
The Vanishing Trick by Jenni Spangler
Asha and the Spirit Bird by Jasbinder Bilan
We hope that reading the extracts will inspire children to want to go to read the full novels.
Developing Reading Comprehension Skills Years 5-6: Contemporary Children's Literature can be pre-ordered from our website and from any bookshop.
Sometimes the simplest ideas are the best!
I love it when I'm shown an idea for a book which, at first glance looks quite easy, but in reality helps to stretch children's knowledge and understanding. Missing Digit Puzzles is a great case in point.
When you first look at the example below, it looks pretty simple. What makes the puzzles in this book challenging is that you can only use each of the digits 1 to 9 once to complete each of the puzzles. There is only one solution, but thousands of possibilities. Why not have a go yourself?
If you are stuck, here are some hints:
For Puzzle A, start with line 1 and the '8' in line 3.
For Puzzle B, start with line 1 and the '7' in line 3.
(If you are really stuck, I've given the answers at the bottom of the email.)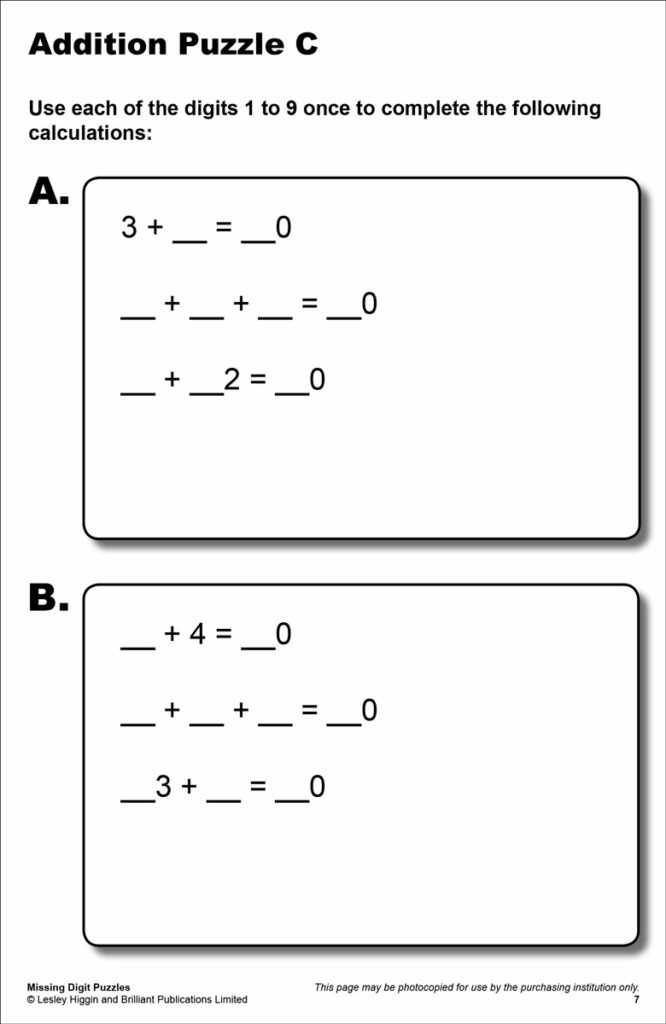 Answers
A. 3+7=10, 5+6+9=20, 8+32=40
B. 6+4=10, 3+8+9=20, 43+7=50
We love to hear from our customers. If you have any comments or queries about any of our products, please get in touch. Our contact form is here.

With best wishes for next week!

Priscilla
Publisher
---
If you would like to receive more information from us, please tell us what interests you by clicking this link so that we can tailor the emails you receive – http://eepurl.com/gKMnqf.