What's new at Brilliant Publications? (24 March 2022)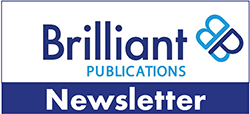 How many books would you guess are published in the UK per day?
I was shocked to read that 167,262 new or revised titles were published in the UK in 2021. That's an average of 458 new titles per day (Nielsen BookData).
Given this plethora of books being published, it is very sad that – according to the National Literacy Trust (NTL) – almost 400,000 children do not own a single book. This has such an impact on their education and life chances. The NLT survey shows that children who own books are
Six times more likely to read above the level expected for their age
Nearly three times more likely to enjoy reading
More than twice as likely to agree that reading is cool.
Disadvantaged children are more likely than their peers to not own a book. On a more positive note, thanks to the efforts of charities such as NLT, the gap in book ownership between disadvantaged children and their more advantaged peers almost halved from 2013 to 2019 (from 6.1 percentage points to 3.3 percentage points).
Using stories to teach foreign languages
Although most of our book are resource books for teachers, we do have some storybooks for teaching French and Spanish, published as part of our Learn French with Luc et Sophie and Learn Spanish Luis y Sofía schemes.
Each unit is based around a story featuring a young brother and sister and their friends and family. The topic-based stories are written entirely in Spanish or French, use simple sentences and introduce key vocabulary and language structures. What I particularly like about them is that each story has a twist at the end.
Our marketing department has been busy this week reviewing all the content on our website (in preparation for our new website launch) and it's been delightful to be reminded why I fell in love with these and all our other titles.
Getting ready for London Book Fair
As I mentioned in a previous newsletter, the London Book Fair will be taking place in April for the first time in two years.
I sometimes (rather cynically) refer to book fairs as 'speed dating for publishers'. I've spent a lot of time this week making appointments for the Fair. Over the course of three days I will probably have 25-30 separate half-hour meetings. It really keeps you on your toes as, at one meeting, you could be talking to someone from Nigeria interested in acquiring the rights to your English titles and at the next a customer from a foreign language bookshop in Australia or an ebook distributor from India. It is always very uplifting to hear how well our books are received by customers from around the world.
I'm really pleased with the new poster that we've designed to showcase some of our latest titles. I hope you like it too!
We love to hear from our customers. If you have any comments or queries about any of our products, please get in touch. Our contact form is here.

With best wishes for next week!

Priscilla
Publisher
---
If you would like to receive more information from us, please tell us what interests you by clicking this link so that we can tailor the emails you receive – http://eepurl.com/gKMnqf.