What's been happening at Brilliant Publications?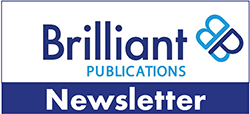 We were very saddened by the death of Her Majesty Queen Elizabeth II. We are thankful to her for her many years of loyal service to the British people.  On behalf of everyone at Brilliant Publications we send our heartfelt sympathy and sincere condolences to The Royal Family.
We're 29 years old! So we'd like to offer you a 29% discount!
We can't quite believe it, but it's 29 years since we published our first book, How to be Brilliant at Writing Stories – it is still available on our website – albeit just as an e-book!
To celebrate our birthday, we'd like to offer you a 29% discount on all books purchased from our website between now and the end of September. This is a great bargain, so make sure to share the discount code (we-are-29) with all your friends.

Brilliant authors will be speaking at the Language Show!
The Language Show has released their speaker programme this week. We are delighted that several of our authors are among the 50+ talks for teachers. The Show will be held from 11-13 November and is virtual. Tickets are only £10 and can be bought by clicking on this link.
Barbara Scanes, the author of the Luc et Sophie stories is going to be talking on Sunday 13 November, from 10-10.45am, about how to inspire children to learn languages through stories, songs and games.
Also on Sunday 13 November, Jenny Bell, the co-author of Physical Spanish Phonics is going to be speaking from 11.30am-12.15pm. She will explore a range of different activities that will help your students differentiate and produce Spanish sounds accurately and confidently, and have fun along the way!
On Saturday 12 November, Danièle Bourdais, co-author of the Brilliant French Information books, is going to be joining Suzi Bewell. They will be sharing how easy it is to implement ways of integrating countries from the Francosphère into your everyday French lessons.
If any of our other authors are speaking (at this event or another), please let me know so that I can give you a plug!
---
We love to hear from our customers. If you have any comments or queries about any of our products, please get in touch.
If you would like to receive more information from us, please tell us what interests you by clicking this link so that we can tailor the emails you receive – http://eepurl.com/gKMnqf.

Priscilla
Publisher
priscilla@brilliantpublications.co.uk